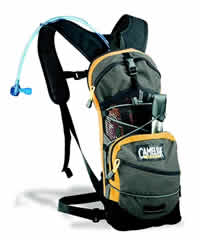 First off, all of you that are saying to yourself, "I don't have a Camelbak", need to go get one or at least a decent equivalent. I'm not going to listen to the advocates of water bottles that pull lame complaints out of their butt like how Camelbak's make them top heavy or extra sweaty. These are the same individuals who also use up their buddies' patches, food and water that they couldn't carry for the ride.
Your Camelbak will give you two things that nothing else can:
A comfortable, sturdy and stable means of carrying (and keeping cool) a lot of water.
Enough room to carry all the equipment and food you should need for even the longest rides.
Although the Mule (shown in photo) is the most popular among mountain bikers, there are many models that will do the trick. The Rocket and even Lobo will be sufficient for short rides. If you plan on doing long day or multi-day rides, I'd recommend the models larger than the Mule. The Blowfish is similar in size to the Mule but has an expanding main compartment. One step up would put you in to the H.A.W.G. or even the coveted Transalp.
What to bring:
Water (duh)
Hand Pump (a good one that will allow you to pump up the tire tight)
Patch Kit (with plenty of patches and glue)
Quick patch kit (optional) (for if you are in a hurry)
Extra Tube
Tire Wrenches
Chain Tool
Spoke Wrench
Hex Wrench Tool
Power Bars (or equivalent) (I have to try a Cliff Bar that doesn't taste like poo)
Sun Block
Chapstick
Insect Repellent
Needle and Dental Floss (If you blow out the sidewall of your tire, you can sew it up with these.) (I've ridden half a season on a repaired tire)
Aspirin & Tums (or equivalent) (something for pain and discomfort)
Emergency Foil-Blanket (optional) (keep warm if you are forced to camp)
Leatherman (or equivalent multipurpose pocket knife)
Money (cash and coins)
Flashlight & New Batteries
Pencil & Paper (small pad and small pencil)
Waterproof Matches
Whistle (when you fall way off the trail and get the wind knocked out of you and can't yell)
Did I miss something. Add An Item
---
User Submissions:
you should also bring a rambo knife. You know the one where the back screws off and it has lots of goodies stashed in there like a little a water compass, some fishing tackle and water proof matches. Oh yeah and I'd also recommend packing a moon pie or two. mmmMMMM-mm! ~Jared Bernard
You should also pack a basic first aid kit.
My kit includes: Latex gloves, Ammonia inhalents, Instant ice packs, Bandaids and basic bandages, Alcohol prep pads, Providone-Iodine or batadine pads or swabs, Safety pins, Moleskin, Adhesive tape or duct tape, Zip-loc bags, tweezers, Water purification tablets, Sawyer Extractor,
550 cord, and many other like items... I also recommend a compass and a map, and a water-proof firestarter. ~Jeffrey DeMent
I recently switch to a Sram Sachs PC-99 chain for 2 reasons.
1. It allows me to remove the chain to clean it which is easier, less messy and more effective and
2. I carry extra links in the event I break a chain. I just add another power link which will get me home with less fuss than trying to put a traditional chain together in the dirt.(not a fun thing to do) I also still carry a chain tool to remove the broke link if needed. (I recommend the Alien). ~Steve Houghland