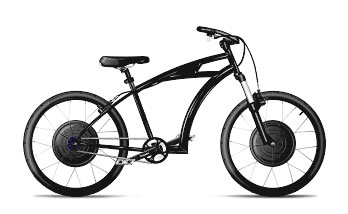 With gasoline prices breaking $3 dollars and weather heating up, you have two opposing forces: the one that wants to save money, and the other that doesn't want to sweat while riding to work. Fortunately, the electric bicycle has come a long way. Based out of New York, NYCewheels is probably the only place to consider when shopping for an electric bike. These guys commute daily in Manhattan on the products they sell, and make sure they keep on stock the bikes that work, and work well.
Their product line includes folding bikes, kick scooters, and electric scooters, but they focus on electric bikes. And although their electric mountain bikes still aren't up to par for my taste in trail riding, the pictured bike here should work well to combat gas prices and office sweat.
Pick up an electric bike today.