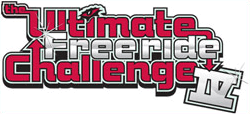 Race Face, again with the help of Giant Bicycles and Manitou Suspension have just completed the fouth annual Race Face Ultimate Freeride Challenge. This year, the winner was a 16 year old freerider from Nelson, BC who has just signed to a sponsorship contract with Race Face, Giant and Manitou worth over $25,000.

"I'm really excited to have Kurt join our Freeride team" says Race Face's Marcshall Rutman. "He's obviously a really talented rider and being so young, he's got a ton of potential. But he's also a really nice kid and should represent the brand really well alongside Bearclaw, Paul, Matty, and Wayne. I think our online community did a great job in selecting Kurt as our winner and I'm anxious to see how he does over the next couple yearsin the professional Freeride scene." Kurt cruised by Matt Brooks and Jared Gatzka in the finals to win the UFC IV ultimate freeride mountain biking challenge.
Get all the details at Race Face.